Why Red is The New Favourite for The Prom Dress
https://www.pinterest.ca/pin/377458012519615314/
Prom is one of those adorable cliches than could never out go of style. Evening gowns, sexy tuxedos and dirty dancing, prom is a luxurious experience for high-schoolers.
Why is dressing up such an important part of the prom?
Ok. This might sound cheesy but prom is a milestone for many high adrenaline, fresh out of high school adults. It's a rather stressful time for young adults who have an entire checklist to take care of. Date – check, Hair and makeup – check, dress…uh-oh. Busted. You might own a royal wardrobe, but you always run out of clothes before prom night. Shopping…is a must. Everything has to be on-point.
Image Source : https://www.pinterest.de/pin/377458012519615330
But why is dressing up such a big deal?
Ask any wannabe prom queen and she would be like – " Duh! Are you kidding' me ?" You know what as shallow and lame this may sound, they are actually right. It's obvious. You have a date to impress, other high-schoolers to flirt with and finally let your hair down! Whew! Those years of high school though! With all that jazz, you snooze you lose.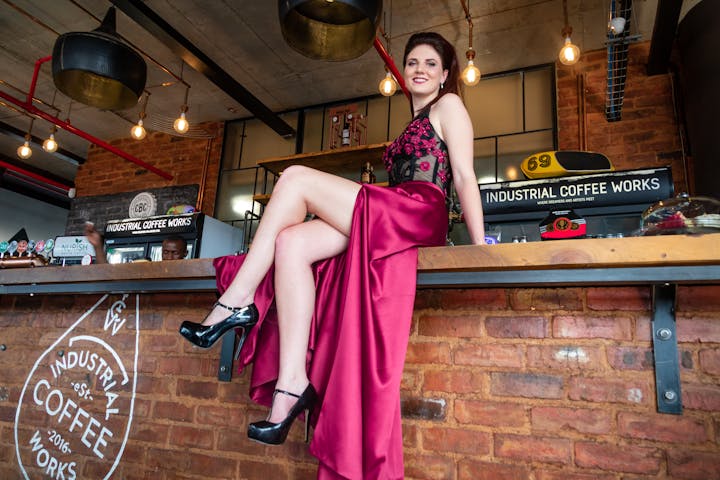 https://www.pexels.com/photo/woman-sitting-on-counter-top-1457978/
Red and/on Prom Night?
While there is no established colour code for prom (for obvious reasons), there are definitely shades of preference. Red, being the most sort after colour. The colour of passion, seduction, love and grandeur. Even celebrities prefer it over other shades. Is it just a hype built by marketing think tanks or is there a science behind this colour of seduction?
Here are why red is the new favourite for prom night :
1. Red is fiesty!
Image Source :
https://www.pinterest.ca/pin/377458012519615494/
Human psychology searches for escapes to project its innermost cravings. One being power. Red is symbolic of strength, confidence and even a subtle level of domination. Putting on red bold lipstick and a pair of Silver Tassel Earrings on your prom, suddenly makes you feel like a bond girl. Why? Red brings out the wild child in you and says "You are in command". Skip the tequila be a black craft girl!
2. The colour of love :
Image Source:
https://in.pinterest.com/pin/377458012519615547
Red is the colour of love. It all started when one fine morning 13th-century French poet Guillaume de la Lorris sat down to write Roman de la Rose roughly translated as (the romance of the rose). Just kidding! No one knows since when did red become a symbol of love. For ages, the two have been inseparable. Red stands for love, that's all we know. can we even question such a sweet pairing?
3. Does red make you look sexier?
Image Source :
https://in.pinterest.com/pin/377458012519615576
Sure, different colours come out differently on various undertones. But red looks universally flattering irrespective of any undertone. There are cooler and warmer shades of red, but the basic hues remain the same. Red also symbolizes passion and sexual aggression. Why do men find women who wear red more attractive, a sexy kind of attractive? It is more than just a stereotype. A sexy red halter neck gown paired with a Gold Backdrop Necklace with Crystals instantly draws his attention. His gaze follows you around and ends up in a "Hey, Can I get you a drink or something".
4. Red makes you stand out. Period!
Image Source : https://www.instructables.com/id/Beauty-and-the-Beast-Beasts-Rose-Replica/
In the words of Valentino "Red has guts!". From red jumpsuit to red ball gowns, the colour looks pretty on almost every outfit. Because it is bright, warm and the right kind of in the face. It oozes with energy and evokes strong emotions. But why does red stand out? The answer is less romantic and more scientific.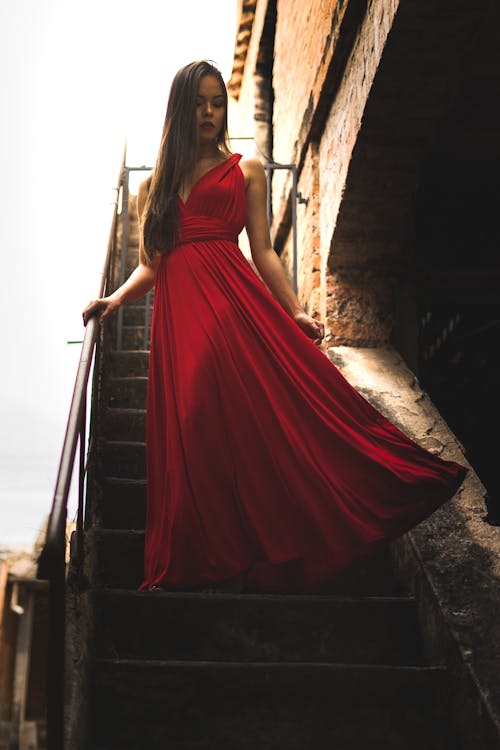 https://www.pexels.com/photo/woman-wearing-red-dress-standing-on-staircase-1755428/
Red is a member of the primary colours club and provokes faster and better responses among humans. It overshadows other colours owing to its warm hues. So don't be shocked if he can't take his eyes off you.
5. A symbol of class and sophistication
One cannot deny that red is a sophisticated shade as well. Firstly, it is something associated with war and aggression to be considered classy and sophisticated, takes it to a whole new level. From red carpet events to red diamonds, it is often associated with the creme de la creme. Shades of subdued red and burgundy are closely connected with royalty and polished lifestyle.
Why so?
Because of human perception and bias, if you walk into a store, cut the drama and pick a simple sexy red outfit, you score 10 points over the girl in the corner picking a multicolour dress. The same reason why a connoisseur would prefer Louis XIII Cognac over a mug of beer. There is simply no rhyme and reason to this. Some things are simply sophisticated. But who cares if such a bias works in your favour on your special night…?
6. Red and the Hollywood connection
Have you seen any Bondgirl walk in with a lip-full of barbie pink lipstick? From Angelina Jolie to Jennifer Lawrence, red is a celebrity must-have. If you are a 90s kid and grew up watching Drew Barrymore rock a red lip, you probably already own a chest full of red lipstick.
more:
Movies influence us more than real life. Not to mention, fandom nowadays functions more like a cult. We follow our favourite celebrity 24*7*365. We like what they like, we do what they do and we wear what they wear. It might cost you a big fat hole in your pocket but hey, who cares when you look like Selena Gomez from Another Cinderella Story on your prom night!
7. You don't have to go heavy on hair and makeup
Consider this a golden rule of dressing up. If you are decided on a red lip or dress, you NEVER go bold with anything else. Red is a black hole of attention. With a red outfit, you don't have to worry a lot about hair and makeup. Going all jazzy with everything on your prom night might make you look like a Russian Circus. However, a simple cowl neck red gown, a neutral lip and a Red Crystal Bracelet, might as well do the trick.
Image Source : https://etiquettejulie.com/modern-prom-manners-for-young-graduates/
Besides you need to learn how to accentuate and flaunt your favourite features. A date might not be compulsory for prom, but confidence and charisma sure are. It's not bad to think out of the box every once in a while and be your own kind of beautiful. Maybe you are one of those kids who is really nervous about prom but, probably 90% of us fall in the same category. So rock that red dress, grab a tall glass of wine and dance your worries away through the night.
Author's Bio
"Jessica Smith has been writing for a few years now. She is a writer by day and reader by night. Holding on to her passion for fashion and travel, she believes that travelling helps her see the world and fashion too."