What to Wear for Thanksgiving Dinner 2018
The Best Thanksgiving Outfits for 2018:
Are you trying to figure out what to wear on Thanksgiving Day? Look no further as we are going to help you plan your perfect Thanksgiving outfit that will include a few jewellery pieces to finish off your overall look. Keep in mind that you can either dress up for the occasion or you can wear a simple dress that looks cute, elegant and is still comfy.
5 Cute and Comfy Thanksgiving Outfits:
1-Thanksgiving Dress:
Thanksgiving outfits can be really stressful to choose. You can never go wrong with a woman's Thanksgiving dress! There are stunning floral dresses that you can buy and because you are meant to be thankful for what you have, your dress can show your application for nature and everything that it gives you. Wear nude lace-up sandals or loafers and you have a casual yet comfy thanksgiving outfit.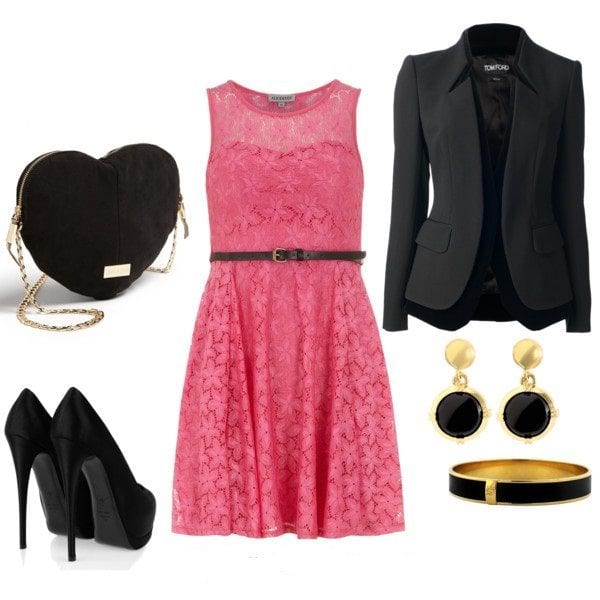 2-Wear a Black Outfit for Thanksgiving Dinner:
If you are more of a pants girl, you can always wear black jeans. Black jeans keep the outfit smart. Pair your jeans with a black top and color shoes. If you get cold, you can wear a nice leather jacket to finish off the look. Your shoes and jewelry are going to be the focal point of this outfit so make sure you choose stunning shoes and bold statement jewelry to tie the outfit together.
3-Wear Jeans and Coloured Sweater for Thanksgiving Dinner:
A fun sweater, jeans and boot heels are very trendy at the moment and you can look like a pop star during Thanksgiving this year. You can play around with this look but dressing up with a uni-colored sweater or you can go mad and find every color under the sun and wear it. Depending on your personality, you can pull this look off whilst looking like a pop star in the making.
4- Statement Sleeves Outfit for Thanksgiving Dinner:
Statement sleeves are taking over the fashion world this year and you can follow the trend. Find a plain colored shirt that has statement sleeves such as a bell sleeve and you can wear a sleeveless jersey over if you get cold. Just remember that the focus of this outfit is going to be your arms so much sure you are wearing a statement bracelet or ring. You can also wear this top with black jeans or you can wear a nice pencil skirt with loafers or pumps to soften the outfit.
5-Retro Outfit for Thanksgiving Dinner:
If you are feeling a bit retro and want your outfit to match your mood, then flare jeans is the way to go! Flare jeans will look nice with a cute sweater and booties. This look is ideal if you have a sweater that you can tuck into your jeans. This style of jeans always looks best in blue or dark blue. Your booties do not have to have a wedge on them. You can wear flat booties, however; the wedge is going to make your legs look on fleek!
These 5 outfits for Thanksgiving are easy to put together, stylish and most importantly, they are comfortable to wear all day. Now that you have found the outfit, let's look at what jewelry to wear to finish off your trendy look.
How to accessorize for your Thanksgiving Dinner Party 2018:
First and for most, once you have chosen your outfit, you need to choose what color jewelry you are going to wear. You can mix and match metal colors such as gold and silver or rose gold but you do not want to mix too much. Some styles of jewelry look really nice when you mix all 3 shades of gold. Play around and see what looks nice on you.
Surewaydm has some astonishing pieces of jewelry that are going to be the talk at your dinner table.
Leather Pearl Choker:
A leather pearl choker Necklace will be an ideal accessory for someone who is wearing a low cut top. This choker is going to create a centerpiece on your neckline. It is plain and simple and yet ties an outfit together so well. Pair this necklace with a nice leather bracelet, diamond ring, and black shoes and you are good to go. I would suggest adding a pop of color to your outfit.
Dainty Silver Chain Bracelet:
We are all suckers for shiny things and this Dainty silver chain bracelet for women is to die for! The double twisted chain gives the bracelet volume and yet still looks small and cute on your wrist. You do not want to add more bracelets when you wear this one as it gives you the allusion of two bracelets in one. However, if you want to give your Thanksgiving outfit more of an edgy feel, you can layer this bracelet with a few beaded bracelets.
Dainty Black Stud Earrings:
Can an outfit really be complete without a gorgeous pair of earrings? We think not! There are so many different options out there and depending on your face shape will depend on the style of earring that suits you. If you have an oval shaped face, hoops will look really nice on you or even studs. These dainty black stud earrings for women are beautiful and due to the fact that they are shaped like flowers, they will bring a bit of fun and uniqueness to your outfit. They will go with most other jewelry styles but they are also able to hold on their own. The high-quality metal earrings are comfortable to wear which is always an added bonus.
As you can see, these are only a few options you can choose from when accessorizing your outfit for your Thanksgiving dinner party. Spice things up and you never know, you might start your very own trend.
Your question of what to wear for Thanksgiving is now answered. These outfits for Thanksgiving 2018 are trending at the moment and are completed with a gorgeous piece or two of jewelry. Don't be afraid to choose bits and pieces of each idea and make your own Thanksgiving outfit for women.